Mark Dwyer of Speedreaders.info recently reviewed; The V12 Engine: The Technology, Evolution and Impact of V12-Engined Cars by Karl Ludvigsen.  
"

To many motorheads the word "twelve" has a near-magical ring to it that any other number of cylinders in an 

internal 

combustion 

engine

 just doesn't come close to matching for impression or status. Anything less is too few, while the only other practical design with more cylinders, sixteen, certainly does seem to be too many. "

"

Taking on the challenge of chronicling 

every

 V12 car engine ever made, as the author tells us is his intent, is not only enormous in scope, it could easily prove to be an overwhelming task for any but the most experienced and determined researcher and writer."
You can read the full review here on http://speedreaders.info/16999-v12-engine/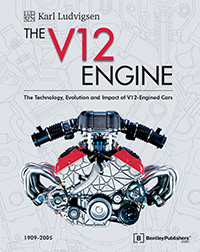 The V12 Engine
Hardcover, 590 pages, 585 photos, illustrations and diagrams, including 58 color photographs
List price: $79.95