Eagle-eyed Porschephile fans of Jerry Seinfeld's acclaimed web series Comedians in Cars Getting Coffee will likely have already noticed a cool cameo appearance by a very special car in one of his latest episodes.
In the recent episode starring fellow car collector Jay Leno, Seinfeld takes Leno for a ride in his Porsche Gmünd coupe 356/2-040, the subject of Karl Ludvigsen's award-winning book Porsche - Origin of the Species. The discussion between the two legendary comedians is entertaining enough on its own but Porschephiles will also be interested in getting a rare close-up look behind the wheel of this artifact of automotive history.  Check out the episode at the link below:
http://comediansincarsgettingcoffee.com/jay-leno-comedy-is-a-concealed-weapon
For the full story of Seinfeld's 356/2-040, along with an analysis of its place in the Porsche pantheon, pick up a copy of Porsche - Origin of the Species, available here on BentleyPublishers.com or wherever Porsche books are sold.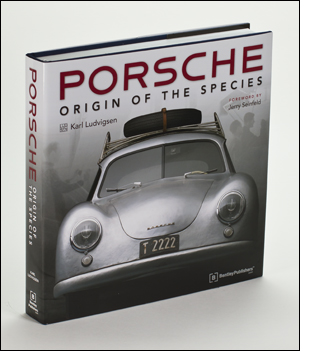 Porsche - Origin of the Species
Hardcover, 356 pages
436 photos and illustrations
Bentley Book Code: GPGC
List Price: $119.95