Skip to end of metadata
Go to start of metadata
The Porsche Museum in Stuttgart-Zuffenhausen, Germany just announced that the very first vehicle designed by Ferdinand Porsche will be added to the Museum's permanent exhibition. Amazingly, this one-of-a-kind historic artifact is a true "barn find," having sat untouched and almost forgotten in a warehouse since 1902. Below is a picture of the car at the Porsche Museum, courtesy of Porsche Cars North America.
The Egger-Lohner C.2 electric vehicle was designed and built in 1898 by a 22-year-old Ferdinand Porsche when he worked at the pioneering automaker Jacob Lohner & Company. The Austrian firm VEAG, formerly Béla Eggar & Company, provided the electrical powertrain. As told in Karl Ludvigsen's book Ferdinand Porsche - Genesis of Genius,
"Their aim was to have it ready for a summer 1898 exhibition in honor of the 50th anniversary of the enthronement of Emperor Franc Josef I, organized by the newly formed Austrian Automobile Club. They chose an unusual layout with the motor transversely between the driven front wheels, which were fixed. Steering was by the rear wheels. The chauffeur sat in the open in front of a closed town-car body. In recognition of VEAG's assistance and acknowledgement of the reputation of its founder, the car was dubbed an Egger-Lohner - thus uniting the two great Viennese names."
Much more of the Egger-Lohner's story, along with a thorough recounting of Ferdinand Porsche's early years, can be found in Ludvigsen's Cugnot award-winning Ferdinand Porsche - Genesis of Genius, available here on BentleyPublishers.com or wherever Porsche books are sold.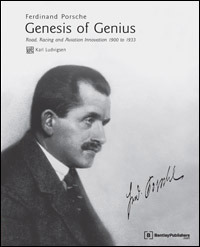 Ferdinand Porsche - Genesis of Genius
Hardcover, 496 pages
570 photos and illustrations
Bentley Book Code: GPET
List Price: $99.95