search
attachments
weblink
advanced
". . . Siegel has a gift for breaking down complex ideas into easily understood language."
It's always great to get an endorsement from a venerable magazine like Hemmings Classic Car. 
Read the review below and find out more about the Mechanical Ignition Handbook by Rob Siegel on our website.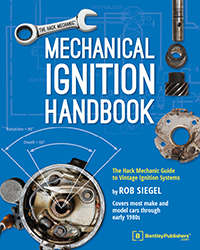 Mechanical Ignition Handbook: The Hack Mechanic Guide to Vintage Ignition Systems
by Rob Siegel
List price: $22.95

Now Available !