Skip to end of metadata
Go to start of metadata
Happy New Year from all of us at Bentley Publishers! While we were away from posting for the holidays, we had a few news updates for the award-winning Porsche - Origin of the Species.
2012 Dean Batchelor Award winner - full coverage from the Motor Press Guild's official newsletter
In case you hadn't already heard, Karl Ludvigsen was awarded the prestigious 2012 Dean Batchelor award at a gala banquet in December. We now have the official word from the Motor Press Guild's magazine MilePost. Click on the picture from the awards ceremony on the left to read the MilePost's full coverage of the awards banquet.
Excerpt published in Porsche Panorama - "The Private Life of 356-01"
Also while we were away, we received the December 2012 issue of the Porsche Club of America's official magazine Panorama. In it, courtesy of long-time friend and now-retired editor-in-chief Betty Jo Turner, you can find a terrific excerpt from Porsche - Origin of the Species. This excerpt (supplemented with a few photos from the Panorama archives) goes into detail on the early days of 356-01, the first car built to wear the Porsche badge. Click on the page spread on the left to read this excerpt.
Other recent news coverage for Porsche - Origin of the Species
Brush up on your German and read this review of Origin in the Austrian automotive magazine Austro-Classic or check out this review of the book in the current issue of Christophorus, the official Porsche magazine.
Cool video tour of the Porsche Museum
Finally, we just saw this the other day and had to share. If you've not been to the Porsche Museum in Stuttgart, check out this awesome video tour, courtesy of Motorhead.jp.  (Note: if the video doesn't appear below, you can click on this Youtube link to watch the short film: http://youtu.be/basQ27IZk6w )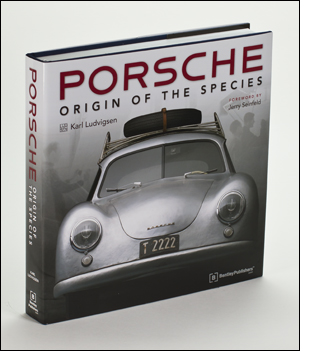 Porsche - Origin of the Species
Hardcover, 356 pages
436 photos and illustrations
Bentley Book Code: GPGC
List Price: $119.95