search
attachments
weblink
advanced
Later on this year, Bentley Publishers will be publishing Memoirs of a Hack Mechanic by longtime Roundel columnist Rob Siegel. However, it's never too early to get in touch with The Hack Mechanic on Facebook!  Just click on the image above or visit https://www.facebook.com/MemoirsOfAHackMechanicByRobSiegel
Visit The Hack Mechanic on Facebook to keep informed of the latest news on this project, including author appearances, excerpts and special events. To receive email updates on the project, click on the button below: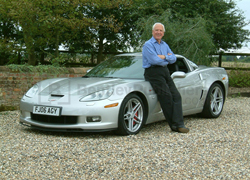 At first sight of the new C7 Corvette Bill Mitchell and Zora Arkus-Duntov are spinning in their graves. Spinning, that is, in sheer excitement at what their successors have wrought. First there's the prominent revival of the Stingray name, first used with the creature's emblem on the racing Stingray of 1959. The name has been used on and off since – albeit not always with the support of Duntov – and amply deserves its revival on the 2014 car, which has all the menace of a maritime predator. "Corvette Stingray" just goes together. Zora will be happy with the car's technology, especially its direct fuel injection, sister to systems that he pioneered at GM in the mid-1950s. As for the C7's looks, Bill Mitchell said that "a car has to have enough interest so that it looks different each time you glance at it. Each time you see it you see a little more. That's what a Corvette should always be." Well, Ed Welburn, you sure pulled that off! It's a car of immense surface and detail fascination that still hangs together beautifully. And those four central exhausts are a straight steal from the Aerovette concept Corvette of 1974. Along with his Sebring SS racer of 1957, that was Zora Duntov's favorite among his unique machines. It may not be mid-engined, Corvette fans, but you've always rejected that option. So this is easily the best Corvette yet.
Bentley Publishers will soon be publishing a reissued edition of Corvette: America's Star-Spangled Sports Car. To stay in touch with the latest developments on this project, click on the Keep Me Notified button below to sign up with your email address.
"This Bentley reference guide is a must-have if you own a 996." - Grassroots Motorsports
Check out the latest issue of Grassroots Motorsports for a five-star review they gave our brand-new Porsche 911 (Type 996) Service Manual: 1999-2005. In this review, appearing in the February 2013 issue that just arrived in our mailbin yesterday (and should be showing up in mailboxes and newsstands right about now), they say "the book covers just about every task the owner will ever need to perform, from regular maintenance to complete engine overhauls." They also really like the full-color photos, saying "the color images really do help the reader understand how the guts are arranged inside the car. Even steel and aluminum parts appear distinct; in black and white, the shades of gray would have been indistinguishable."
Big thanks and much appreciation to everyone over at GRM! Visit their website at http://grassrootsmotorsports.com
To check out the full review, follow this link: http://www.bentleypublishers.com/gallery.htm?code=p905&seqnum=18
Due to unprecedented demand triggered by recent rave reviews in The New York Times, Porsche Christophorus, and Classic & Sports Car among many others, as well as winning the coveted 2012 Dean Batchelor Award, we are temporarily out of stock on Porsche - Origin of the Species.
Back in stock April 2, 2013
We are expecting to start shipping more books starting April 2, 2013. If you place your order now, we will send out your book in April. (We won't charge your credit card until the book ships.) Or if you prefer, click on the Keep Me Notified button below and we'll send you an email notification when the book is back in stock.

Stay tuned for upcoming Karl Ludvigsen event news ...
Watch this space, we will soon be announcing details of Karl Ludvigsen's April appearance at the Antique Auto Museum in Hershey, PA.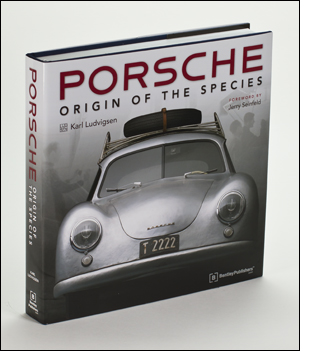 Porsche - Origin of the Species
Hardcover, 356 pages
436 photos and illustrations
Bentley Book Code: GPGC
List Price: $119.95


Happy New Year from all of us at Bentley Publishers! While we were away from posting for the holidays, we had a few news updates for the award-winning Porsche - Origin of the Species.
2012 Dean Batchelor Award winner - full coverage from the Motor Press Guild's official newsletter
In case you hadn't already heard, Karl Ludvigsen was awarded the prestigious 2012 Dean Batchelor award at a gala banquet in December. We now have the official word from the Motor Press Guild's magazine MilePost. Click on the picture from the awards ceremony on the left to read the MilePost's full coverage of the awards banquet.
Excerpt published in Porsche Panorama - "The Private Life of 356-01"
Also while we were away, we received the December 2012 issue of the Porsche Club of America's official magazine Panorama. In it, courtesy of long-time friend and now-retired editor-in-chief Betty Jo Turner, you can find a terrific excerpt from Porsche - Origin of the Species. This excerpt (supplemented with a few photos from the Panorama archives) goes into detail on the early days of 356-01, the first car built to wear the Porsche badge. Click on the page spread on the left to read this excerpt.
Other recent news coverage for Porsche - Origin of the Species
Brush up on your German and read this review of Origin in the Austrian automotive magazine Austro-Classic or check out this review of the book in the current issue of Christophorus, the official Porsche magazine.
Cool video tour of the Porsche Museum
Finally, we just saw this the other day and had to share. If you've not been to the Porsche Museum in Stuttgart, check out this awesome video tour, courtesy of Motorhead.jp.  (Note: if the video doesn't appear below, you can click on this Youtube link to watch the short film: http://youtu.be/basQ27IZk6w )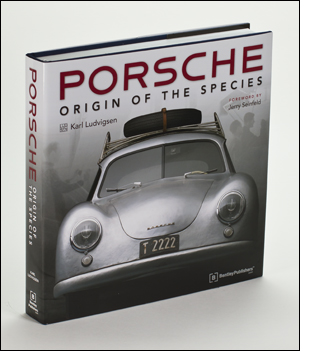 Porsche - Origin of the Species
Hardcover, 356 pages
436 photos and illustrations
Bentley Book Code: GPGC
List Price: $119.95