Skip to end of metadata
Go to start of metadata
Join us at Bentley Publishers on Sunday, November 13th for a MINI tech session!
     
This event will cover basic MINI repair and maintenance, drawn from our acclaimed line of MINI technical manuals.  Attendees will have a chance to talk with Bentley Publishers Service Publications editors and ask questions about MINI technical topics. Lunch will be provided free of charge.  
 
The event will run from 10 AM to 2 PM at our studio at 1734 Massachusetts Avenue in Cambridge, Massachusetts. Follow this link for directions:  http://www.bentleypublishers.com/directions.htm  
 
Although this event is free and open to the public, space is very limited.  Pre-registration is required.
 
To register, send us an email with the subject line "MINI Tech Session" along with your name, email address and phone number at the link below:
 http://www.bentleypublishers.com/feedback.htm?to=events
Above: Bentley Publishers technical editor conducting a seminar at a tech session.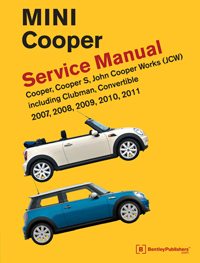 MINI Cooper Service Manual: 2007-2011
List price: $139.95