Skip to end of metadata
Go to start of metadata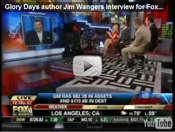 Jim Wangers, author of the book Glory Days: When Horsepower and Passion Ruled Detroit, was interviewed for Fox Business News on June 2nd, 2009.
The legendary Pontiac marketing wizard and GTO guru spoke on the recent demise of the Pontiac brand.  "The facts are that after the wonderful glory days of the 1960's and the 1970's, General Motors proceeded to destroy . . . one of the greatest assets they had, which was the images - what it meant when you started to talk about a Chevrolet or a Pontiac or an Oldsmobile or a Buick or even a Cadillac - everybody knew what you were talking about."
Click on the link below to watch this interview.
www.bentleypublishers.com/pontiac/Glory-Days-PB-/gallery-3308-9.html
Glory Days was also recently reviewed for Jalopnik.com.  Reviewer Murilee Martin was even kind enough to include a nice gallery of images from the book.
"All in all, a good read even for those who don't have any particular love for the GTO. Wangers is a pro writer, so you won't end up clutching your head in incomprehension or groaning at yet another passage in generic ghost-writerese, and you'll come away from the book with a much improved understanding of the way marketers create our cars. Four-rod rating; Murilee says check it out! "
Click below to read the full review.
jalopnik.com/5289914/glory-days-when-horsepower-and-passion-ruled-detroit-by-jim-wangers
For more information on Glory Days: When Horsepower and Passion Ruled Detroit, visit www.BentleyPublishers.com/pontiac/Glory-Days-PB-.html.